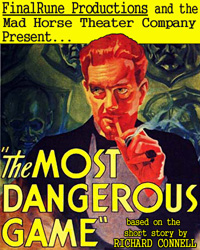 (Adventure)
Written by Richard Connell, New Audio Adaptation by Fred Greenhalgh
Part of the FinalRune/Mad Horse Old Time Radio on Location Project
Adapted anew from the short story – a retelling of the story heard in the 1940s on Escape and Suspense!
Wealthy big-game hunter Sanger Rainsford falls off his boat in the middle of the Caribbean and finds himself on a curious island. He finds the mansion of General Zaroff, a Cossack who has a taste for the hunt, and will go to any extreme to keep himself entertained.
A thrilling tale with a lot of history (thank you Wikipedia)
Producer and Director: Fred Greenhalgh
Cast:
Burke Brimmer as Whitney
Craig Bowden, as Rainsford
Brent Askari, as General Zaroff
Field recordist Randall Farr, Musical Score by Barb Truex, Classical Music by Kevin MacLeod
Recorded on location in the Greater Portland Maine area the summer of 2009.
To learn more about the Mad Horse Theater Company, visit their website, www.madhorse.com
Behind the Scenes of the FinalRune/Mad Horse Old Time Radio on Location Project